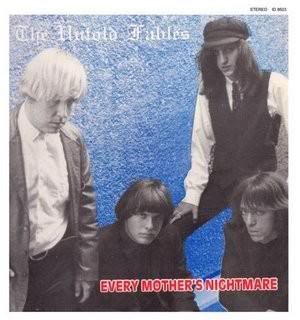 From
The GaragePunk Podcast Archives
:
OUT OF THE VAULTS, INTO YOUR EARS #21

The Untold Fables - Live at Safari Sam's, Huntington Beach, CA (1985)CLICK HERE TO LISTEN NOW!
With commentary by
Gringo Starr
from the
Sonic Nightmares
podcast.
A rockin' set from L.A.-based "Paisley Underground" stalwarts the Untold Fables, which not only rocks, but captures the ambience of a sparsely attended mid-week gig, something I experienced many times, both as a musician and a promoter. Featuring the Fables tearing up "She Lied," "It's a Cryin' Shame," and "I Can Only Give You Everything," among others.
From
GaragePunk.com
:
The Untold Fables were Paul Carey on voice, Jon Niederbrach on guitar, Robert Butler (later of The Miracle Workers) on bass and Paul Sakry on drums. Although The Fables were mainly associated with the mid-'80s L.A. psychedelic/garage revival scene that grew out of a club called the Rave Up and later moved to Greg Shaw's Cavern Club, their music also included strong influences from '70s punk and '50s rhythm & blues. Their first release, a remake of "I Try" by the Young Tyrants, was for
Voxx Records
'
Battle of the Garages, Volume 3
(which is now available on the
Battle of the Garages Part Two
CD).
In the spring of 1985 they recorded their first LP,
Every Mother's Nightmare
, for Lee Joseph's
Dionysus Records
at West Beach Studios in Los Angeles. Lee Joseph produced it with a lot of input from Robert Butler and sound engineering by Brett Gurewitz (Bad Religion). The album was finally released about a year later. In the summer of 1986 and spring of 1987 the Fables had two more recording sessions, this time at South Coast Studios in Santa Ana with David Carey producing. Eleven songs from these session were later compiled for their second LP,
Aesop's Apocalypse
, released in early 1989, about a year after the band split up.
CLICK FOR FREE SUBSCRIPTION TO THE GARAGEPUNK PODCASTS