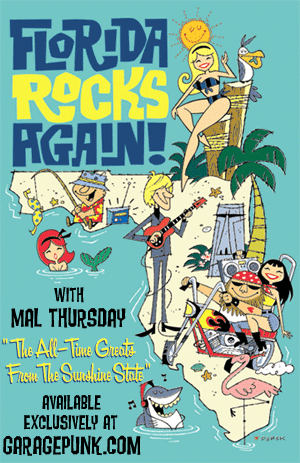 Once again, it's hurricane season in the Sunshine State, and this episode of
Florida Rocks Again!
is all about the tropical storms that heap abuse upon Floridians every year around this time. So here's a collection of garage, rock 'n' roll, deep soul, and country rock nuggets all about the stormy weather that is an unfortunate fact of life in Florida.
Batten down the hatches, and turn it up so you can hear it over the howling wind.
Available for download at
GaragePunk.com
and via iTunes

Playlist:
ST. LOUIS JIMMY: Florida Hurricane
THE OUTSIDERS: She's Coming On Stronger
THE SAXONS: Things Been Bad
THE HATE BOMBS: Wrong Place, Wrong Time
THE LEGENDS: Raining in My Heart
THE LEAVES OF GRASS: City in the Rain
THE PURPLE UNDERGROUND: Rain Come Down
THE METERS: Stormy

THE PROLIFICS: Keep on Raining Rain
BENNY LATIMORE: Rain from the Sky
GREGG ALLMAN: Feel So Bad
STEVE ALAIMO: Cast Your Fate to the Wind
DANIEL E. SKIDMORE: Listen to the Wind
THE MIGHTY DOG CATCHERS: It's Gonna Be A Mess, Pt. 2