The Mal Thursday Show #6: The Girl-Getters
This episode of
The Mal Thursday Show
was inspired by Michael Winner's 1964 film,
The System
, released in the US two years later under the title
The Girl-Getters
, and starring the one and only Oliver Reed. The film concerns the misadventures of a group of rogues in a seaside resort, who set out to seduce all the pretty girls who come there on holiday, and has just been reissued on DVD in the UK.
The Mal Thursday Show #5: Live 'n' Wild
Live recordings of rock 'n' roll bands from the mid-'60s are often a mixed bag of out-of-tune guitars, screaming girls, and questionable mic placement. Witness the Rolling Stones' Got Live If You Want It and The Kinks' Live at Kelvin Hall, to name but two. Then there are the fake live records, where audience noise is dubbed on to studio recordings, usually with underwhelming results. This edition of
The Mal Thursday Show
brings together some excellent live garage records, which are drawn from 45s, radio and TV broadcasts, demo tapes, and even a Hawaiian "Battle of the Bands" LP.
The Mal Thursday Show #4: Songs the Lyres Taught Us
A collection of vintage '60s nuggets covered by Boston's longest-running garage band, the Lyres, led by Jeff "Monoman" Conolly. A couple of these date back to Jeff's days in the legendary DMZ, but all of 'em have been heard at one time or another at various Lyres shows dating back to 1979. Presented in mono, of course.
The Mal Thursday Show #3:
You're Too Hip, Baby!
Mal is back with a boatload o' kick-ass garage to assault your eardrums and bend your mind, direct from stately Thursday Manor in Austin, Texas. Along with bands from the Lone Star State (Sons of Hercules, Ugly Beats), there are also representatives from the Commonwealth of Massachusetts, the Pacific Northwest, the U.K., and elsewhere.
Tune in, turn on, and turn it up!
The Mal Thursday Show #1: Texas Titty Twister
Having just moved to Austin, Mal was going through his record collection and decided to put together a podcast. Except for a set of '66-era Texas garage, most of the records in this show were made in the last 15 years, in contrast to
Florida Rocks Again!
By the way, the original
Mal Thursday Show
aired on WMUA in Amherst, MA, from 1987 to 1991, and had a brief revival on WFCF in St. Augustine in 2002. Enjoy!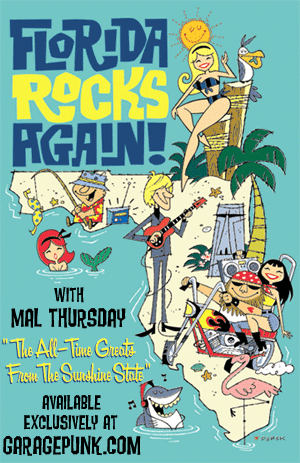 FRA

! # 27: Miami, Pt. 2
FRA

! #26: FRA! Hall of Fame
FRA

! #25: Girls! Girls! Girls!
FRA

! #24: Rockabilly Riot!
FRA

! #23: Night and Day
FRA

! #22: Fuzz Feast
FRA

! #21:

Cryin

' Time
FRA

! #20: Florida Time!
FRA

! #19: Love, Love, Love
FRA

! #18: Orlando Rocks Again!
FRA

! #17: Hey, Man
FRA

! #16: The "I" Decade
FRA

! #15: Sunshine State Garage
FRA

! #14: Baby!
FRA

! #13:

Coverama

!
FRA

! #12: All About You!
FRA

! #11: Florida Freak Out!
FRA

! #10: Miami, Pt. 1
FRA

! #9: Florida Folk Rock
FRA

! #8: Tampa Bay Teen Scene
FRA

! # 5 & 7: Sunshine State Garage Revisited
FRA! # 4/Mal Thursday Show #2: Halloween Special
FRA

! # 3 & 6: Painted Faces/The Tropics
FRA

! # 1 & 2: The I-4 Corridor Battle of the Bands!